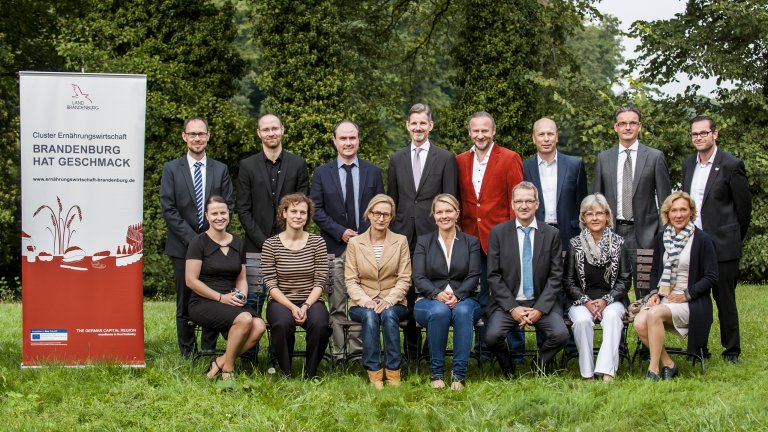 © WFBB
The Cluster
A growing Community
The Cluster Food Industry forms a platform for all the important players of the food industry from the capital region.
The Cluster creates a connection between the entire value chain – "from field to fork" – and other sector-adjacent industrial sectors as well as the scientific potential of the region. Long-lasting growth through innovation and added value is thereby being ensured. All businesses, scientific institutes, associations and networks are invited to become an active partner within the Cluster Food Industry.
Grow with us! Become a partner in the Cluster Food Industry!
Cooperation on equal terms
The Cluster management Food Industry sees itself simultaneously as a catalyst, initiator and moderator. It is of the utmost importance to foster cooperation among all cluster participants and to make this cooperation sustainable. This can be achieved by providing transparency, by establishing new contacts and by initiating small as well as large projects between businesses or between scientific institutions and businesses.
Master plan
Master plans have been drawn up for all of the Clusters of the state of Brandenburg.
The master plans, among other things, describe the framework conditions for the further development of the Cluster; they depict the Cluster's structures, provide an overview of the projects, the networks and fields of action in the Clusters and they also define milestones for the future work of the Cluster.
Brandenburg's Innovation Strategy (innoBB+)
The goal of Brandenburg's Innovation Strategy (innoBB+) is to further develop the capital region as an internationally competitive innovation space. With this goal in mind, the innoBB+ relies on establishing and enhancing Clusters with a high development potential while Brandenburg Invest aims at fulfilling this goal through conducting the project "Cluster Coordination and Initiation of Innovation Cooperation in Brandenburg 2015 to 2017". The central task of the Cluster managements, which were created in the framework of the project, consists of implementing the topics of the respective master plans together with partners and linking important players in a targeted manner.